Activities to Honor Heroes
These three activities will enable children to identify the characteristics of a hero and complete a project that reflects the person. This is a great activity to do during Black History Month or civic holidays like Veterans Day.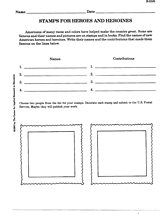 To view this printable you need Adobe Acrobat Reader. Click to download Acrobat Reader - it's free!