Flu Fighter's Guide
Teach kids to be the ultimate germ fighter! This colorful and informational printable will show kids ways to stay healthy and stop the spread of germs.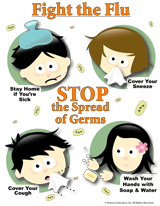 Grade Levels: 0-12 months - 12
To view this printable you need Adobe Acrobat Reader. Click to download Acrobat Reader - it's free!