Name That (Baby) Tune! Shower Game
For this baby shower game, create a playlist of songs that have the word "baby" in the title (hint: use a mix of older and newer songs so that all players have a fair chance). Print this sheet for each guest to guess the song title and artist while you play a snippet of the song. Give one point for each correct title and two points for each correct artist. The player with the most points wins! Check out these other fun baby shower games.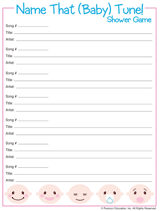 Grade Levels: Pregnancy - 0-12 months
To view this printable you need Adobe Acrobat Reader. Click to download Acrobat Reader - it's free!