Baby Shower Guessing Game
For this easy baby shower guessing game, cut out these slips and ask shower guests to fill in their guesses about the baby's birthday, weight, and more! After the baby arrives, send a small prize to the best guesser, or just collect all the guesses for the mom-to-be's scrapbook! Check out these other fun baby shower games.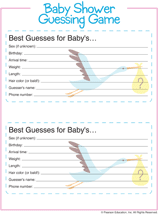 Grade Levels: Pregnancy - 0-12 months
To view this printable you need Adobe Acrobat Reader. Click to download Acrobat Reader - it's free!