printables MORE
Do You Know Which One?
Focus on listening in order to understand ideas with this printable word-usage activity. Say the word for one item in each row; instruct children to circle the pictures that match the words.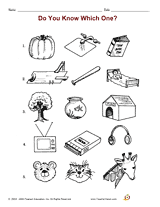 To view this printable you need Adobe Acrobat Reader. Click to download Acrobat Reader - it's free!