Map of North America
Print this outline map of North America. This map is an excellent way to encourage students to color and label different parts of Canada, the United States, and Mexico.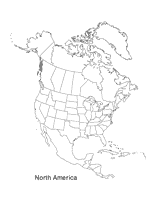 To view this printable you need Adobe Acrobat Reader. Click to download Acrobat Reader - it's free!