Martin Luther King Jr. Questions
Use these literal and interpretive comprehension questions to discuss the article "Martin Luther King Jr. Receives the Nobel Peace Prize." This printable is great to use for Martin Luther King Day (January) and Black History Month (February).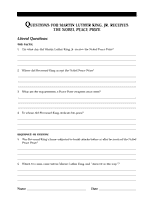 To view this printable you need Adobe Acrobat Reader. Click to download Acrobat Reader - it's free!