Pictorial Timeline of Dr. Martin Luther King's Life
This pictorial timeline of Dr. Martin Luther King's life covers the major events in the life of this important civil rights leader. Use this printable as a supplementary activity for Martin Luther King Day (January) or Black History Month (February).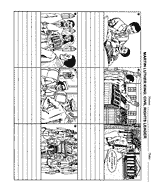 To view this printable you need Adobe Acrobat Reader. Click to download Acrobat Reader - it's free!