printables MORE
The Story of Martin Luther King Jr.
Use this printable to teach children the story of Dr. Martin Luther King Jr., and have them answer the questions that follow. This activity works well for Martin Luther King Day (January) and Black History Month (February).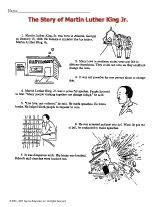 To view this printable you need Adobe Acrobat Reader. Click to download Acrobat Reader - it's free!