Pirate Hat
Color and cut the pirate hat, and then attach it to a stick for some masked fun!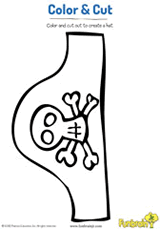 To view this printable you need Adobe Acrobat Reader. Click to download Acrobat Reader - it's free!

Visit www.funbrainjr.com for more printables like this one, plus free online games and stories for preschoolers and kindergartners.