A Holiday from Another Culture
Use these questions to help your child interview someone from another culture about a holiday that they have celebrated. Holidays you could focus on include Jewish, Muslim, and Christian holidays.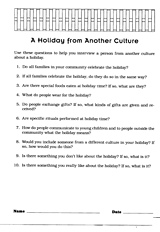 To view this printable you need Adobe Acrobat Reader. Click to download Acrobat Reader - it's free!