printables MORE
"I'm Thankful for . . ."
Give thanks with this printable music activity. Children will write a poem about something they are thankful for, and set the lyrics to a familiar melody. This is a great activity for students to enjoy around Thanksgiving.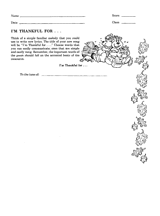 To view this printable you need Adobe Acrobat Reader. Click to download Acrobat Reader - it's free!