printables MORE
Music Balloon: What Do You See?
Celebrate Music in Our Schools Month (March) with this printable. Children will design a balloon to promote music at their school, and draw their idea on this worksheet.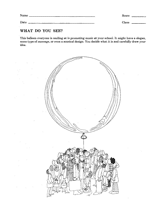 To view this printable you need Adobe Acrobat Reader. Click to download Acrobat Reader - it's free!