Teen Driving Contract
Did your teen just get his license? Print out this contract as an agreement between you and your teen to help ensure he drives responsibly and stays safe while behind the wheel.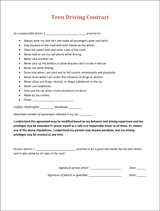 To view this printable you need Adobe Acrobat Reader. Click to download Acrobat Reader - it's free!