Bedtime Routine Checklist for Older Kids
Get your child into his own bedtime routine with this printable checklist for older kids. Also check out this bedtime routine checklist for younger kids and this morning routine checklist.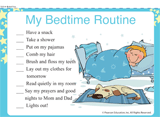 To view this printable you need Adobe Acrobat Reader. Click to download Acrobat Reader - it's free!