Top 100 Baby Names for Girls - Printable List
Print or save this list of the current top 100 baby names for girls in the U.S. from the Social Security Administration. Click on each name to see its meaning, and check off the heart next to the names you like (assign one column of hearts to each parent). Also check out our printable list of the top 100 boy names and more baby name resources in our NameLab.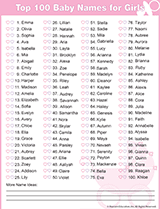 To view this printable you need Adobe Acrobat Reader. Click to download Acrobat Reader - it's free!