12 School Year Resolutions: Printable List
These back-to-school resolutions can help streamline your family's busy life for the best school year yet. Hang this list on your fridge to keep you and your children focused and stress-free from September to June.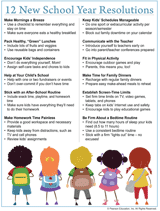 To view this printable you need Adobe Acrobat Reader. Click to download Acrobat Reader - it's free!