Poetic Language in "Memories of Christmas"
Children will understand and appreciate the use of literal and figurative language though examining Dylan Thomas's poem "Memories of Christmas." This is a great activity to enjoy in your literature and language arts class around Christmas time.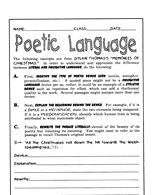 To view this printable you need Adobe Acrobat Reader. Click to download Acrobat Reader - it's free!