Sample Maternity Leave Agreement
Use this sample agreement as a model for your own written record of your personal maternity agreement with your company.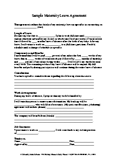 Grade Levels: 0-12 months - 12
To view this printable you need Adobe Acrobat Reader. Click to download Acrobat Reader - it's free!

© 2005 by Marla Schram Schwartz. Excerpted from The Working Woman's Baby Planner with permission of its publisher, Sourcebooks, Inc.
To order this book visit Amazon.com.