Too Much or Too Little Information?
In this printable worksheet, students are given a list of problems and must decide whether there is too little or too much information provided to solve the problem. Improve your students' math skills with these exercises.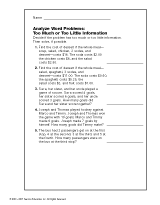 To view this printable you need Adobe Acrobat Reader. Click to download Acrobat Reader - it's free!