Compare Strategies: Make an Organized List/Use Objects
Children are encouraged to compare the strategies of making an organized list and using objects to figure out which method is easier for each problem. Improve your students' math skills with these exercises.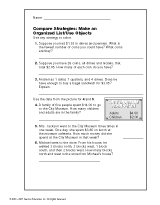 To view this printable you need Adobe Acrobat Reader. Click to download Acrobat Reader - it's free!