What's Wrong with This Picture? Kitchen Image Search
What's wrong with this picture? Color the drawing and identify the ten things that don't belong.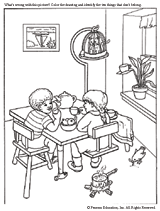 To view this printable you need Adobe Acrobat Reader. Click to download Acrobat Reader - it's free!
These images were reproduced with permission from the Dover Pictorial Archive Series, Dover Publications, Inc.