printables MORE
Where Do Balloons Go? Word Search
Look across, down, and diagonally to find the names of the places where the balloons go in the book, Where Do Balloons Go?.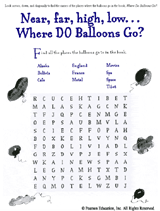 To view this printable you need Adobe Acrobat Reader. Click to download Acrobat Reader - it's free!

Adapted from Where Do Balloons Go?, by Jamie Lee Curtis. Reprinted by permission of HarperCollins Publishers.