What's So Funny?
Two ghosts are telling jokes in "spooktalk." Figure out their language to reveal the answer to the riddle in this printable.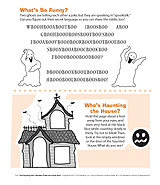 To view this printable you need Adobe Acrobat Reader. Click to download Acrobat Reader - it's free!

From The Everything Kids' Halloween Puzzle & Activity Book Copyright © 2003, F+W Publications, Inc. Used by permission of Adams Media, an F+W Publications Company. All rights reserved.
To order this book go to Amazon.