Wacky Weather
Use the clues given to draw the correct weather symbol on the days in this March calendar.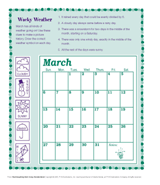 To view this printable you need Adobe Acrobat Reader. Click to download Acrobat Reader - it's free!

From The Everything Kids' Crazy Puzzles Book Copyright © 2005, F+W Publications, Inc. Used by permission of Adams Media, an F+W Publications Company. All rights reserved.
To order this book go to Amazon.