Dolphin Maze
Three pink dolphins have decided to travel out to sea to see the pink sunset. Help them get there by showing them the way through the watery maze.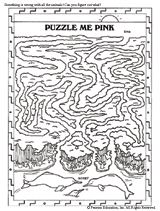 To view this printable you need Adobe Acrobat Reader. Click to download Acrobat Reader - it's free!
These images were reproduced with permission from the Dover Pictorial Archive Series, Dover Publications, Inc.