Sad Panda/Glad Panda
Make a path that alternates sad and glad, but be sure to get sad panda glad at the end!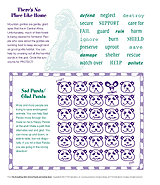 To view this printable you need Adobe Acrobat Reader. Click to download Acrobat Reader - it's free!

From The Everything Kids' Animal Puzzle & Activity Book Copyright © 2005, F+W Publications, Inc. Used by permission of Adams Media, an F+W Publications Company. All rights reserved.
To order this book go to Amazon.