What's Different? Animal Image Search
These two pictures look the same, but there are five things wrong with the bottom picture. Can you find them?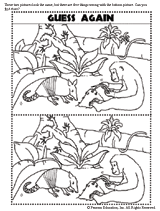 To view this printable you need Adobe Acrobat Reader. Click to download Acrobat Reader - it's free!
These images were reproduced with permission from the Dover Pictorial Archive Series, Dover Publications, Inc.