What's Wrong with This Picture? Jungle Image Search
Something is wrong with all the animals! Can you figure out what?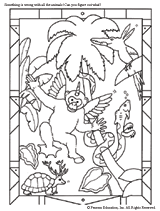 To view this printable you need Adobe Acrobat Reader. Click to download Acrobat Reader - it's free!
These images were reproduced with permission from the Dover Pictorial Archive Series, Dover Publications, Inc.