Awfully Ancient Word Puzzle
In order to spell out the answer to the riddle in this printable, kids must cross out the letters that appear in each row more than three times.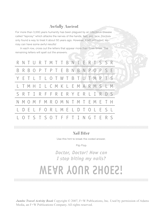 Grade Levels: 0-12 months - 5
To view this printable you need Adobe Acrobat Reader. Click to download Acrobat Reader - it's free!

From Jumbo Travel Activity Book Copyright © 2007, F+W Publications, Inc. Used by permission of Adams Media, an F+W Publications Company. All rights reserved.
To order this book go to Amazon.