Five Elements of a Plot
Five elements of a story's plot (introduction, rising action, climax, falling action, and resolution) provide the structure for this graphic organizer. This printable is customizable. Tailor the PDF to your teaching needs by typing in the highlighted fields before printing.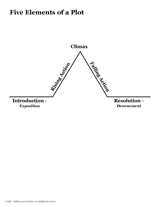 To view this printable you need Adobe Acrobat Reader. Click to download Acrobat Reader - it's free!