"Bullying Stops Here" Printable Pledge
Kids can play a big role in preventing bullying. Review these six steps children and teens can take to play an active role in ending bullying, and have them sign the pledge. For more information, go to StopBullying.gov or the National Bullying Prevention Center.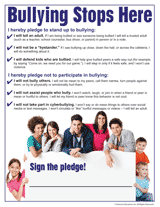 To view this printable you need Adobe Acrobat Reader. Click to download Acrobat Reader - it's free!