"World's Greatest Teacher" Thank You Card
Print this free teacher appreciation card to thank your teacher for all the hard work this school year! Teacher Appreciation Week is the first full week in May, but it's nice to thank your teacher anytime. Check out more teacher thank-you cards.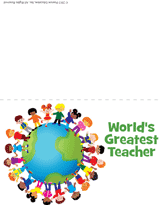 To view this printable you need Adobe Acrobat Reader. Click to download Acrobat Reader - it's free!