Interactive Grocery List
Check off, write in, and print off this interactive grocery list to make your supermarket shopping experience a bit more pleasant. If the kids are coming along, don't forget to print off our grocery games to keep them entertained!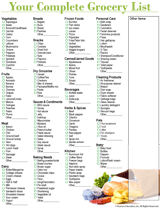 Grade Levels: 0-12 months - 12
To view this printable you need Adobe Acrobat Reader. Click to download Acrobat Reader - it's free!