Fill in the Blank Verse for Kids and Adults
This poetry activity helps build skills and provides a great way for you to have some fun with your kids. Just fill in the blanks with the appropriate words to create your own original poem.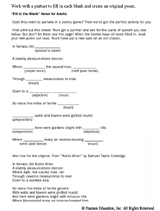 To view this printable you need Adobe Acrobat Reader. Click to download Acrobat Reader - it's free!