Travel Journal: Grades K-2
Print out this journal cover and have your little traveler color it in. Then she can paste the page onto (or into) a standard composition or spiral notebook. Voilà -- a travel journal!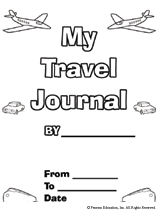 To view this printable you need Adobe Acrobat Reader. Click to download Acrobat Reader - it's free!