Personal Culture Pizza
What different traits and interests define your place in the culture? First read and print out the instructions for the culture pizza. This "pizza" can be used as a stand-alone activity or as practice for making a poster-size pizza.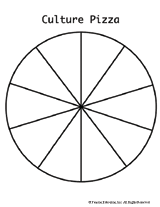 To view this printable you need Adobe Acrobat Reader. Click to download Acrobat Reader - it's free!