Trace the Words: Bat, Cat, and More
It's time to trace! Practice spelling and writing the words by tracing the letters.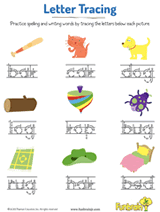 To view this printable you need Adobe Acrobat Reader. Click to download Acrobat Reader - it's free!

Visit www.funbrainjr.com for more printables like this one, plus free online games and stories for preschoolers and kindergartners.