Thanksgiving Place Cards for Kids
Cut and fold along the dotted lines on these Thanksgiving place cards, and fill in the blanks to create a customized message for each of your guests. Also check out these printable Thanksgiving napkin rings kids can write on.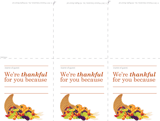 Grade Levels: 3 years - 6
To view this printable you need Adobe Acrobat Reader. Click to download Acrobat Reader - it's free!