Thanksgiving Napkin Rings
Cut along the dotted lines, wrap around your napkins, and glue or tape each one to create special Thanksgiving napkin rings customized with your own words of appreciation. Also check out these printable Thanksgiving place cards kids can write on.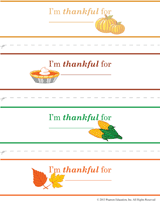 Grade Levels: 3 years - 6
To view this printable you need Adobe Acrobat Reader. Click to download Acrobat Reader - it's free!