Thanksgiving Parade Bingo
Looking for a fun activity related to the Thanksgiving Day parade? Print out this parade bingo game, which encourages kids to watch the event from start to finish while Mom and Dad are busy preparing a holiday feast!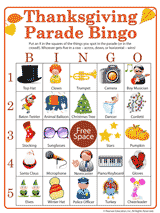 To view this printable you need Adobe Acrobat Reader. Click to download Acrobat Reader - it's free!