printables MORE
"The Pinecone Turkey"
After reading "The Pinecone Turkey" by Mabel Maurine Henderson, children can try these related activities in a range of subject areas. This printable activity is a fun way to incorporate reading skill-building into Thanksgiving fun.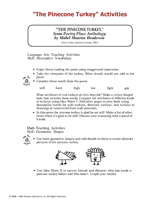 To view this printable you need Adobe Acrobat Reader. Click to download Acrobat Reader - it's free!