printables MORE
The Story of the "Star-Spangled Banner"
Discover a great story that explains how the popular song came to be the official American Anthem. Teach children about "The Star-Spangled Banner" around Veterans Day, Memorial Day, or the Fourth of July.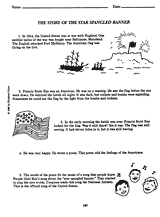 To view this printable you need Adobe Acrobat Reader. Click to download Acrobat Reader - it's free!