Trace the Letters for Star, Frog, and More
It's time to write! Trace the uppercase and lowercase letters that help spell what is pictured.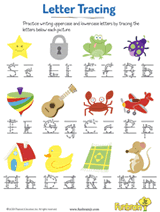 To view this printable you need Adobe Acrobat Reader. Click to download Acrobat Reader - it's free!

Visit www.funbrainjr.com for more printables like this one, plus free online games and stories for preschoolers and kindergartners.